Aligned Incentives CEO and Co-founder, Yann Risz, will join global sustainability leaders and investors at the Hyperscaling Climate Technologies conference hosted by McKinsey Sustainability in London on October 13, 2023. Yann will speak on the "AI for Hyperscaling" panel and discuss the role of Generative AI in expediting corporate decarbonization efforts.
As McKinsey's inaugural Green Business Building Forum in the UK, this invitation-only event brings together a select group of global experts in green technology, business innovation, and sustainable investment.
The conference features plenaries, panels, and tech workshops aimed at accelerating the growth of green businesses in a Net Zero economy.
Taking place ahead of COP28, this event places particular emphasis on the strategies for hyperscaling green businesses to meet the 1.5° transition goal by 2030.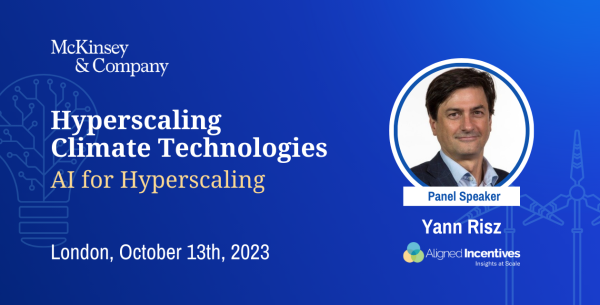 About Aligned Incentives:
Aligned Incentives offers a science-based sustainability software platform trusted by the world's largest organizations. Powered by Generative AI and granular life cycle assessments at scale, we enable enterprises to efficiently measure, report, and reduce their environmental footprint across the entire value chain. Our solution accelerates the path for companies to achieve sustainability goals while ensuring seamless regulatory compliance.
Please subscribe to our newsletter to receive key takeaways from this event and the latest sustainability insights and guides.